Try and tell anyone in the under-12 set that Halloween is not all about candy and you might be met with more than a little bit of doubt. Yet, set a well-appointed snack board on the party table and even the most ardent pro-sugar skeptics may give healthy Halloween tidbits a second chance.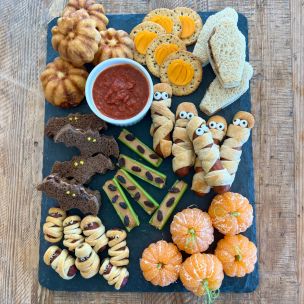 With a few seasonal cooks' tools and some good ideas, you can make healthy snacks the star of your Halloween celebration. We've constructed tantalizing boards of everything from cookies and candies to cheeses and appetizers and have the art of board building down pat. Read on for 3 essential steps and all the recipes and ideas you'll need to create the most Instagram-worthy snack board ever.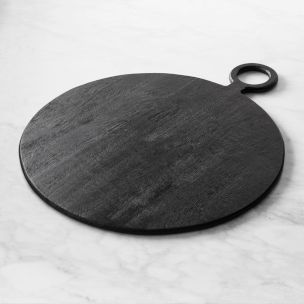 1. Select a Board
There's no better place to get started on a new project than with a clean slate. In some cases, quite literally! For Halloween, a plain, dark board (such as one constructed of slate or black wood) offers the perfect ebony backdrop for a festive collection of seasonally-inspired snacks.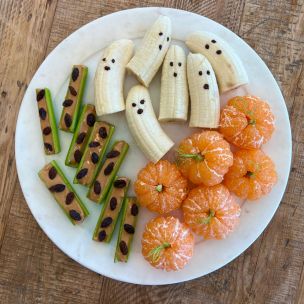 2. Decide What to Include
When it comes to the type of snacks you'd like to feature, no one knows your audience better than you. Sandwich cut-outs filled with pb&j will go over well with the grade-school crowd, but maybe not so much with the adults in the room.
Take inspiration from seasonal emblems. For Halloween, we're talking ghosts and ghouls, witches and goblins. A good set of Halloween cookie cutters can go a long way towards bringing a spooky spirit to your board, but is not essential. Little more than a good imagination, a few key ingredients and a penchant for whimsy is all you really need. Check out our Halloween board on Pinterest for some of the serving ideas we love. Go for items in a range of colors, shapes and sizes.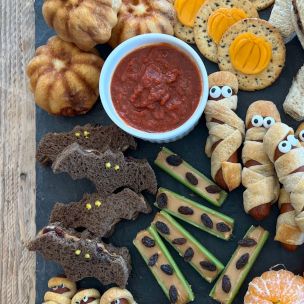 3. Design Your Board
When you're satisfied with a nice collection of snacks to share, it's time to put it all together on your board. Arrange your snacks in mishappen clusters—each oriented in a similar direction. Use the items in abundance, filling any open spaces. If the placement seems a bit hectic, the addition of a one or two larger items—such as a cheese ball or a bowl for a dip or nuts— can serve as a steadfast anchor around which to cluster smaller, loose snacks.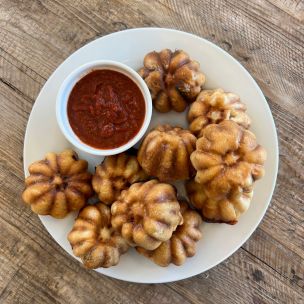 The Recipes
Perfect Pumpkin Pizza Pockets
There are myriad uses for Nordic Ware cakelet molds that go well beyond just cake. These muffin-size pizza pockets are a case in point. Start with the skull- or pumpkin-shaped cakelet mold, line it with readymade pizza or crescent roll dough, fill and bake. Pizza ingredients are the featured filling here, but you could just as easily swap in ham and cheese or a spoonful of chili if you like.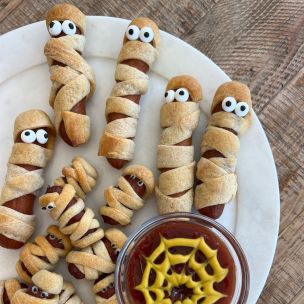 Mummy Dogs
Once you prepare mummy dogs, you'll wonder why you ever stooped to serving hotdogs in ordinary buns. Wrapped in strips of refrigerator dough, the dogs bake to easy perfection. Edible googly eyes are a nice touch, though well-placed dots of ketchup work nearly as well for sinister eyeball stand-ins. For the ultimate in mummy dog presentation, serve a bowl of mustard spider web-topped ketchup alongside. (Try the same technique we used here.)
Halloween Snacks
The most central ingredient in your snack board is a healthy amount of creativity. No real recipes required. Make pb&j or ham and cheese sandwiches and use a halloween cookie cutter to cut them into spooky shapes. Fill celery sticks with peanut butter, then top them with raisins for ants on a log. Banana become ghosts with just the right application of chocolate drips. Tangerines transform to halloween pumpkins when peeled and embellished with celery stick "stems." All you really need for the best-ever board is just some good ideas and whole lot of fun.